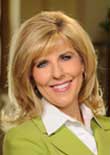 Terri Copeland Pearsons
Texas State Director
Eagle Mountain International Church Inc. (EMIC) aka Kenneth Copeland Ministries
Fort Worth, TX
Terri Copeland Pearsons, eldest daughter of internationally known minister Kenneth Copeland, first discovered the adventure of prayer as a little girl praying at her grandmother's side. Drawing on that rich heritage of faith, she connects people with the living presence of God, teaching them who they are in Christ and how to operate in prayer from that position.
She has supported her father's commission to take the Word of God from the top of the world to the bottom and all the way around since attending Oral Roberts University (ORU) in Tulsa, Oklahoma in the late 1970s. She began by being the first producer for the Believer's Voice of Victory television broadcast and helped establish Brother Copeland as a forerunner in television ministry.
After leaving the television ministry, Terri and her husband, George Pearsons, began serving in 1993 as the pastors of Eagle Mountain International Church (EMIC) at Kenneth Copeland Ministries (KCM). Since 1995, she has ignited the fires of prayer at EMIC through Prayer School and a dynamic network of prayer groups, and has brought life into the prayers of believers world wide.
Following her commission from Brother Copeland in 2004, Terri has traveled throughout Europe, Africa, North America, and Australia to bring the message of walking by faith in the presence of God.
Contact Person: Iva Bennett, EMIC Associate Minister
E-mail: [email protected]
Telephone: 817-252-2900
Website: www.emic.org
Click here to join Daughters For Zion and to subscribe to our e-mail list.

---
---
DFZ Texas Prayer Group Leaders